When an order is placed, our system sends an automatic confirmation email with the order number and tracking details. If this wasn't your case, and you haven't received it, you can try out these options:
1) If you have your order number, you can go to your order review page with that and your email address. You can then access your order confirmation page.
2) If you have a Trouva account, you can simply go to your order section. There you can see the order details.
3) If you don't have any of these, please make sure to check your spam folder in case the confirmation email has landed there. You may add orders@trouva.com to your email contacts to ensure you receive all future communications regarding your orders.
4) If none of the above works, please contact support using the option "general query". Please include your email address, as well as a description of the issue. You can also mention the date in which the order was placed, the amount, and the last 4 digits of your credit/debit card for a faster resolution.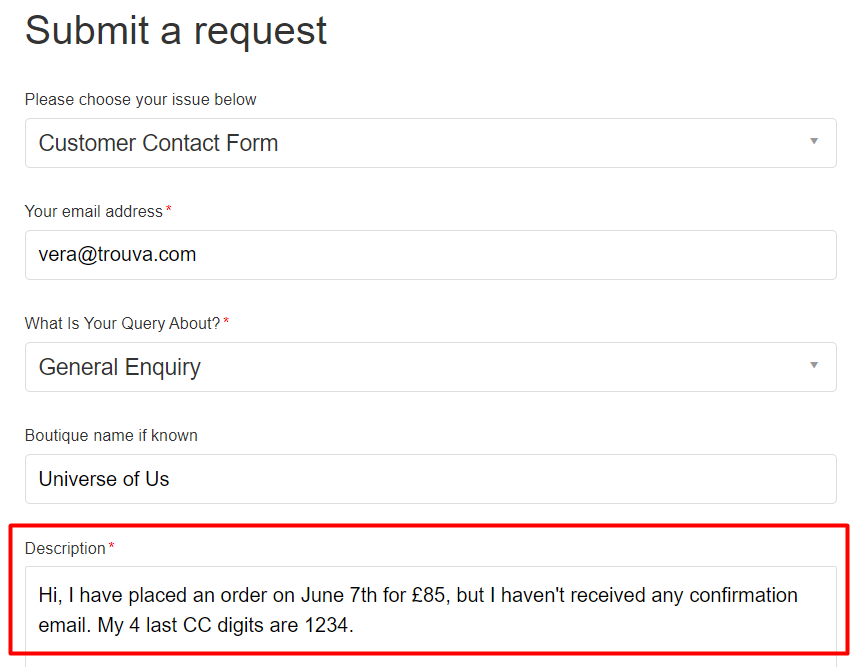 You can then click on "Submit" and our team will contact you as soon as possible with the information.